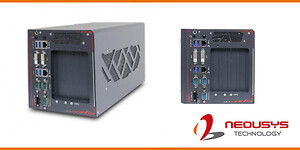 A cost-effective box-PC – Nuvo-8111
The Nuvo-8111 series is a cost-effective box-PC with 3 expansion slots designed specifically to support an advanced mid to high-end 200W NVIDIA® graphics card, such as an RTX 3060/ 3060 Ti, to offer stunning edge AI performance. Offering tremendous GPU power up to 20 TFLOPS in FP32 for emerging GPU-accelerated applications, they boost the performance and efficiency of factory automation, image recognition, product inspection, pick and place robots, etc.
Nuvo-8111 series leverages an Intel® 9th/ 8th-Gen Core™ processor with H310 chipset. It has one x16 Gen3 PCIe slot for accommodating a GPU card, and an additional x4 PCIe and a PCI slot for industrial I/O cards such as DIO, AIO, communication or motion control card. It features front-accessible I/Os including two GbE, four USB 3.1 Gen1 and five COM ports for easy access when it is rack-mounted or placed inside a cabinet. Storage-wise, the system supports two 2.5" SATA SSDs/ HDDs plus one mSATA socket to house an mSATA SSD.
Feature:
Intel® 9th/ 8th-Gen Core™ i7/ i5/ i3, Pentium® and Celeron® LGA1151 CPU
Supports NVIDIA® GPU up to 200W TDP
An additional x4 PCIe, and a PCI slot for add-on cards
-25°C to 60°C wide-temperature operation
2x GbE, 4x USB 3.1 Gen1 and 5x COM ports
Dual DVI display outputs
Up to 2x 2.5" SATA HDD/ SSD accommodation and 1x mSATA socket
DOWNLOAD DATASHEET -->

Embedded Computer and Expandable Box PC from Neousys:
Neousys embedded Box PCs feature high-performance processors with low power consumption components. They are capable of functioning with 100% CPU load while operating in wide temperature range ranging from -25℃ to 70℃ for various industrial applications. In addition, Neousys embedded Box PCs feature flexible expansion modules allowing you to add-on industrial-specific I/O functions for your solution needs.
You are very welcome to get in touch with us early in the idea processing
– our application engineers and products specialists are here to help you find the optimal solution for you.
For request or quotation please mail us at info@recab.com or call us: + 46 8 683 03 00